At Tremaniac Racing Engines we use state of the art machinery on every engine we build whether it be a daily driver or a highly refined pro stock engine.
At T.R.E. our focus is on forging a strong and reliable relationship with all our customers. We guarantee a fast reliable, efficient service with quality assurance
With years of hands on experience in the motor racing industry Tremaniac Racing Engines can build performance race engines or performance street engines to suit your requirements. We also specialise in performance marine engines, having over 15 years experience building some of Australia's fastest speed boats. At Tremaniac Racing Engines we offer a continued R&D programme to give you the edge over your competition.
Tremaniac Racing Engines offer a one stop shop for all your performance engine building needs and can supply you with all the necessary parts and accessories for your bullet at very competitive prices. At Tremaniac Racing Engines we provide a wide range of complete engine packages for street, race and marine use.
The Tremaniac Race Team
Tremaniac racing is the most successful pro stock team ever to run in Australia, with four consecutive Australian titles to their credit and three runner-up positions in the same period, they have no equal.  Tremaniac racing has been credited as the team who has changed the face of pro stock in Australia and made it the sensational class it is today.
Team owner Kerry Tremayne talks about how it all started and the journey he and his family have been on over the years and the success they have enjoyed during their racing careers and their continued involvement in the sport they love.
I was married at a young age to my wife of 44 years Meryl and she has been at my side the whole lot of those 44 years and except for her and her support, i would not be relating this story.
I have always had a passion for anything with an engine. No doubt I inherited that from my father who loved fast cars. I never owned a car that I didn't hot up. I started drag racing in 1975 in Townsville at the old savanna raceway, at that time I was the proud owner of a genuine xy tho phase 3 falcon which use to run 14.2 seconds. On my return to Brisbane, i became a regular at surfers paradise raceway, the first meeting I actually won was a major, the 1977 street nationals where we had over 400 entries.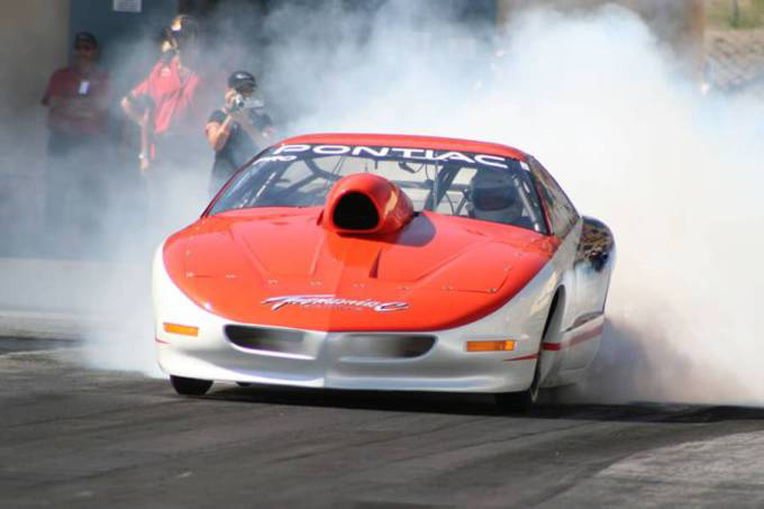 Tremaniac racing is the most successful pro stock team ever to run in Australia.
The need to go faster was getting stronger so goodbye phase 3,  would you believe I received enough money to buy a race car and a deposit on a house.  I bought my first altered off peter martin in Nambour, running in competition eliminator in the b/altered class. Competition Eliminator was the class to be in as it was regarded the no 1 class in the country at that time.  Immediately I was reasonably successful making it to a few finals and usually running gentlemen Jim Reed but I always was the bridesmaid. In late 1978  I broke the drought and started winning. Between 1979 and 1980  I won my share of events at the then renowned surfers paradise raceway and dominated competition eliminator resetting the b/a strip record many times. Our most memorable moments were winning the new year series in 1979, winning the 1980 internationals where I broke the national speed and et record as well and also when my new car that was built by bill jones from weld well won the Sandra car of the year award in 1981. I retired from racing in 1982 due to the economic climate at that time.
This turned into a basic 20-year hiatus from the sport during this time I raised a family, my two boys Tyronne and Aaron,  but I still managed to have a fast car sitting in the shed to play with.   I took up squash as a sport and done a heap of fishing, I had a great affection for Moreton island.  I have always been a keen water skier, I started skiing in 1959 at the tender age of 10 years so I decided to buy a ski boat and teach the boys how to ski. In 1995 I bought a Stephens 18ft race boat set the boat up built an engine for it and went ski racing. The first Tremaniac was born.  This actually turned into a bit of a business with other racers asking me to set up their boats and build their engines. The boys were exceptional water skiers and we had incredible success winning most of the events we entered in to. We also had our down moments  with Tyronne suffering a skiers arm from a bad fall and also  our highs when Tyronne with his one good arm  won the gruelling 110klm  iron man event at lake broadwater, also Tyronne and Aaron winning  the southern 80 ski race at euchua in their class, winning the QLD lane racing series 4 out of 5 years.  Over the many years of ski racing, we would have had a 90% win rate.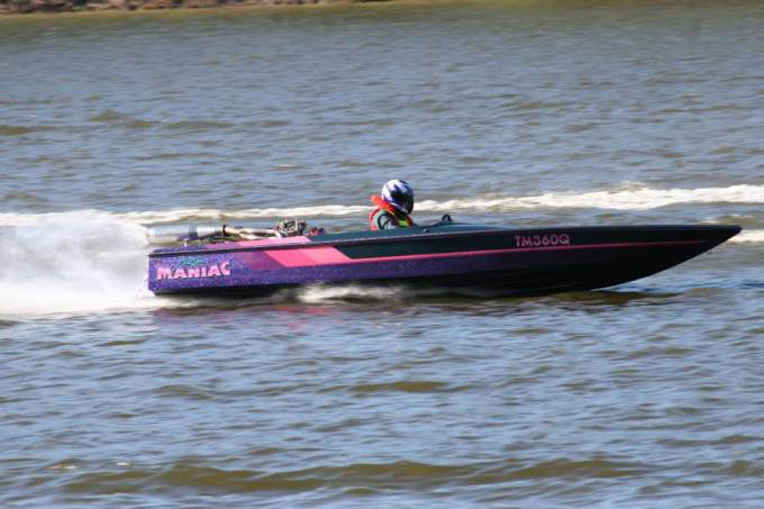 In 1995 I bought a Stephens 18ft race boat, set the boat up, built an engine for it and went ski racing.
In 2002 I purchased my old altered back from Greg Gellert and debuted at the 2002 Winternational in modified, I ended up back in competition eliminator as I am not a dial you own man. Aaron then licensed in the car at the beneraby raceway and ended up taking out runner-up at that meeting.  I bought the wayne Hughes altered from Cairns for him, and ran both cars in comp. Elim. I am a guy who is highly competitive so we went all out with ex-pro truck engines etc., but to no avail even though both of us went in the 7.50's.  Aaron with one event win, the tin tops in 2004———-
Time to go pro stock racing, my favourite class. Enter one Pontiac firebird, the 358 out of the altered and the tin tops, Aaron licenses and goes to the second round. By this time Tyronne is busting to get into racing. I purchased the ex Greg Anderson Chev cavalier for Aaron and Tyronne takes over the Pontiac. He licenses well at Willowbank but crashes at his debut meeting at wsid hitting the wall head-on at top speed. Aaron continues to race and does well, top qualifying on some occasions, but we continually seem to miss the set up which costs us dearly. We know we have the power to win. Aaron accumulated enough points that year to be runner-up in the Australian championship. This was a turning point for us as we stopped setting the car up with the advice we received from other sources and Aaron's role as crew chief took effect as he started calling the shots.
We had planned to repair the Pontiac but at that time the pontiac grand am of mike Tinney's came up for sale (a true gentleman and sadly missed) so we purchased it off mic and Tyronne stepped into his first spec bodied car.  We debuted the grand-am at the 2007 winter warm-ups where Tyronne runs the fastest pro stock pass in Australian history. The 2007 international, what an event, pro stock is called to the line no one will go first, conditions are less than ideal. Officials tell us if you don't race you will be sent back to the pits. We decide to go out first. Tyronne goes 7.16 with a .001 reaction, Aaron goes 7.16 with a .007 reaction the crowd go wild.  Both cars are outstanding the entire event. Tyronne goes on to win the international our first and most memorable win.
The following year Aaron starts off the year well by winning the first round in Sydney, with  Tyronne runner-up, Aaron then wins the tin tops, this was the last race for both their current rides. Next event on the calender saw the unveiling of two brand new troupe pro stock cars. As usual the cars were behind schedule and landed  just 2 weeks before. I still can remember what a hectic time this was as we were still finishing the cars off with two hours to go before our first round of qualifying. This was to be a compulsory half pass for the boys.  Both cars qualified well but were put out early in eliminations.  The rest is history Aaron and Tyronne dominate the year, they win every event and reset both ends of the national record on many occasions. Tyronne backs up his international win and goes in the record books as the first pro car to go in the 7.0's running a record-setting 7.05secs. At 192.22 mph.  Over a two year period between them they rewrite the national speed and et  record books 12 times.   The following two years prove more difficult as competitors performance proves superior . Aaron and Tyronne must rely on their driving skills to win and Aaron proves why he is considered one of the best drivers in the country taking out another two championships the only pro stock driver to win four championships consecutively.  Tyronne backs up his brother three of those four times proving his skills as a driver and a deservedly no 2 in Australia.  Aaron also shows why he is highly respected as a crew chief and engine tuner with the true maniac cars always fast even on the trickest of race tracks and especially on race day.
Tremaniac racing is a subsidiary of Matak pty ltd a family business and is supported by the other subsidiary Aqualine pools. The whole family work in the business, Tyronne who is based in Bundaberg runs the poolside of the business while Aaron handles the engine building side that is based in Yatala.  I work between them and Meryl looks after the secretarial side of things. Having only minor sponsors basically means that Tremaniac racing support all our racing activities and we all support the racing side of things by excepting a very basic wage but we all agree we work to support what we love to do, race.
The last season we had a bit of a  setback,  with Tyronne finishing 5th and Aaron  8th. Aaron blames himself for not doing his job as a driver, in his defence with the cars only qualifying midfield over the last couple of years and being behind the eight ball as far as power goes we decided to do our own engines,  the first was to develop a new cylinder head.  Aaron was responsible for the runner and port design as well as valve location and valve angles. With the added pressure of trying to run a business, develop and test a new engine and head combo as well calling the shots on the race cars took its toll and his driving suffered.  We are proud to say as a team we are as close as it gets to running an Aussie built pro stock racing engine as most engine builders still source their heads from the USA where we manufacture and finish  our own head the Tremaniac racing tx1 head  ready to bolt on,  no extra porting and finishing required right here in good old Queensland.
Looking at the future of pro stock and where is it headed, I can see pro stock following after the USA, we have a few teams now with corporate backing and other teams with good sponsors, we have teams spending plenty  on engine and head development, getting their cars set up in the USA,  bringing in  crew chiefs from the USA,  these teams will begin to dominate pro stock as they do in America. I am anticipating that teams will become more professional as corporate Australia will see the value of investing in these amazing cars and put their support behind the sports no 1 class. I couldn't really see any other form of motorsport that would equal the return on investment that drag racing has to offer.
And what of us, well Tremaniac racing at the moment because we are 95 percent self sponsored, being in the swimming pool industry where unfortunately the GFC has had a large impact, also with the investment we have had to make in developing our own cylinder head and engine package we will be only doing the east coast and if by some chance we land a major sponsor we will do Perth. So corporate Australia this would be the best advertising opportunity you could ever hope to make.  Successful marketing in advertising and brand awareness with Tremaniac racing equals successful on the race track.
I would like to say thank you to our crew Paul, Robbie, Rolinia, Matthew and Russell for putting up with us.
Our sponsors
Speedflow  – for their great fittings
Pac Racing Springs  –   the best valve spring on the market no question.
Autobarn Bundaberg –  thanks  Chris
Decoglaze –  thanks Jason
Last of all thanks to my wife Meryl, my boys Tyronne and Aaron for without their support, hard work and sacrifices over the years these pages would be blank.